Herbally Pure
Liquid Multivitamins 32oz.
Feed your body the nutritional
FUEL it needs to run strong all day.

Our New And Improved Herbally Pure
High Potency Liquid Vitamins Loaded
With Minerals and Antioxidants

Herbally Pure is a VEGAN product
with No Fructose and
Now Electrolyte Enhanced!


Herbally Pure
Liquid Multivitamins 16oz.
Feed your body the
nutritional FUEL it needs
to run strong all day.

Same as 32 ounce but
half the size!

Herbally Pure
Vitamin Water 8oz.

Ready To Drink 8oz
VITAMIN HYDRATION WATER
Pre Mixed Purified Water
That Is Electrolyte Enhanced
High Potency Vitamins Loaded
With Minerals And Antioxidants
In A Convenient 8oz water bottle.
Feed your body the nutritional
FUEL it needs to run strong all day.

Herbally Pure
Super Energy Shot 2oz.

The First HEALTHY Energy Shot!

25 vitamins minerals and
antioxidants in a one shot dose.
Electrolyte Enhanced!!
Best Energy Shot to attack the
cause of Fatigue not the symptom.
Feed your body the nutritional
FUEL it needs to run strong all day.

Nutrients in GREAT TASTING Herbally Pure Liquid Vitamins have a better than 95% absorbsion rate. This is a large difference when compared to capsules or hard compressed "horse pills" that can have an absorption rate as little as 5-10%. Not only are those vitamins in pill and capsule form hard to swallow, but they often give that unfavorable vitamins aftertaste. They are not nearly as effective as our great tasting liquid vitamin supplements. Why waste money when all you really need is Herbally Pure liquid multi vitamins packed with minerals and antioxidants? It is as easy as one ounce per day!

Our advanced liquid vitamins are a truly unique dietary supplement because one ounce contains all the vitamins your body needs for optimium health. Try Herbally Pure liquid vitamins today!

Build long term repetitious sales by offering quality, effectiveness, loyalty and reap the rewards of happy and excited customer referrals.Liquid vitamins by Herbally Pure liquid vitamins and supplements as seen on THE VIEW. Best vitamins and nutritional supplements for your daily complete nutritional requirements is our liquid vitamins minerals with antioxidants. Health supplements made from natural vitamins make the best vitamins minerals. Best vitamin supplements with antioxidants. Buy best rated multi vitamins online that are liquid vitamin supplements with vitamins minerals antioxidants.

Important Ingredient List Information: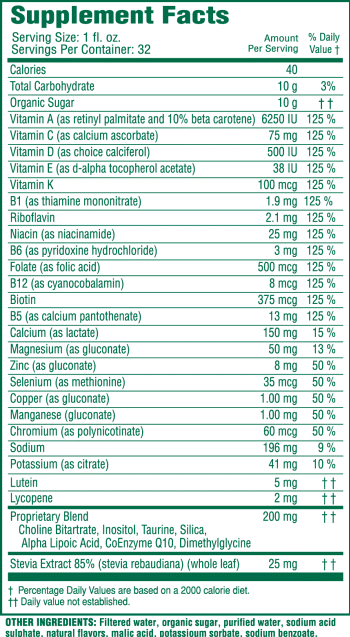 Understanding What Many Ingredient Lists State Versus What You Actually Absorb Is Very Important.
With most pills the ingredient list may make you think that you are getting high doses of nutrients but you are not. So when they say you get 200% of your daily requirements you are only actually getting only about 15% of that into your system. Pills can not dissolve fast enough and usually pass through your system before having a chance to be absorbed. In one issue the Physician's Desk Reference shows that 85-90% of nutrients in liquid supplements are absorbed within 22 to 30 seconds. Compare this to the four hours it takes a mere 10%-20% of the nutrients in pills to become absorbed into the body. So with most pills 100% of your daily requirements is ingested but only 15% is absorbed into your system. With our liquid vitamins your body absorbs 90% of all liquid nutrients within the first minute of entering the body. Pill companies must use mega doses to compensate for that lack of absorption which may cause taxation on the kidneys. We do not recommend getting your body used to mega doses. Your body should be given mega doses only when you are combating an illness or disease and only with the supervision of a physician. If you constantly give mega doses to yourself, your body will get used to it and mega doses won't be as effective when really needed. With our Liquid Vitamins you are actually getting what you think you are!
Statements made anywhere on this web site are for informational purposes only and are not intended to be substituted for the advice of a medical professional. Information and statements have not been evaluated by the Food and Drug Administration and are not intended to diagnose or treat any disease or medical condition.

Compare our HEALTHY energy shot against anyone!
Energy Source:25 Vitamins,
Minerals,
Antioxidants.
Energy Source:Chemical caffeine,phenylalanine,taurine
Energy Source:"Organic" caffeine added to powdered yerba mate, guarana, goji, etc.
Energy Source:Chemical caffeine,phenylalanine,taurine
Energy Source:Chemical caffeine,phenylalanine,taurine
Energy Source:Chemical caffeine added to powdered green tea
Effect: Smooth, steady energy
Effect: Jittery, nervous energy
Effect: Mildly jittery energy
Effect: Jittery, nervous energy
Effect: Jittery, nervous energy
Effect: Mildly jittery energy
Side Effects:
None
Side Effects:Stress, anxiety,tachycardia, shakiness, acid stomach, mind-racing, flushing, irritability, crashing
Side Effects:Mild stress, shakiness, acid stomach, flushing, irritability, crashing
Side Effects:Stress, anxiety,tachycardia, shakiness, acid stomach, mind-racing, flushing, irritability, crashing
Side Effects: Stress, anxiety, tachycardia, shakiness, acid stomach, mind-racing, flushing, irritability, crashing
Side Effects:Mild stress, shakiness, acid stomach, flushing, irritability, crashing
Sweetener:
Organic Cane Juice, Stevia a Natural Sweetener.
Sweetener:Chemicals
Sweetener:Cane sugar
Sweetener:Sucralose, glucose, sucrose, sugar
Sweetener:Sucrose/glucose or sucralose/aspartame,
Sweetener:Cane sugar
Flavorants:Natural Orange Flavor
Flavorants:Fake flavor
Flavorants:Extracts, salt
Flavorants:Fake flavor
Flavorants: Fake flavor
Flavorants:Organic "flavors"
Food Value:ALL that the daily FDA recommends daily plus more
Food Value:None
Food Value:None
Food Value:Some sugar calories
Food Value: Some sugar calories
Food Value:Sugar calories
Health: Nutritious
Health: Highly questionable
Health:Questionable
Health: Highly questionable
Health: Highly questionable
Health:Questionable
Largest cost:
Ingredients
Largest cost:Packaging
Largest cost:Packaging
Largest cost:Packaging
Largest cost:Packaging
Largest cost:Packaging