Need help confirming if this product is what you need? Send us some pictures or questions relating to your project and we can help advise ideal use of this item.

Works on all 4 x 4 post. Some post may need to be trimmed or sanded to fit.

This product fits a standard 4x4 post (3.5"x3.5")
Some sanding may be required as 4 x 4 post are not always consistent in size.

Much better looking than the flimsy metal ones and ours provides 20countersunk holes for a more appealing look.


Quick-Mount 4 X 4 handrail support flange for permanent or temporary hand, fence, deck, porch railing or post. Made from paintable ABS plastic which meets or exceeds UBC Construction Code.

Quick-Mount 4 X 4 post support flange for permanent or temporary hand, fence, deck, porch railing or post mounting. Heavy Duty High Impact ABS Plastic Provides Immense Strength That Will Last For Decades.

Mounts with #8 Deck Screws on Bottom Flange and #6 Deck Screws on top.
Not To Be Used Over Other Deck Mounts.
*Depending on mills standards some sanding may be required for fit.


Customer Images:

Hi Billy,
Well it has been awhile but we are finally about finished with the outside of our little cottage (now we are starting the inside!) and I remembered that you wanted to see pictures of your post support in action. As you can see it is perfect and as solid as a rock. Thank you again for your great product!!
Take care - Scott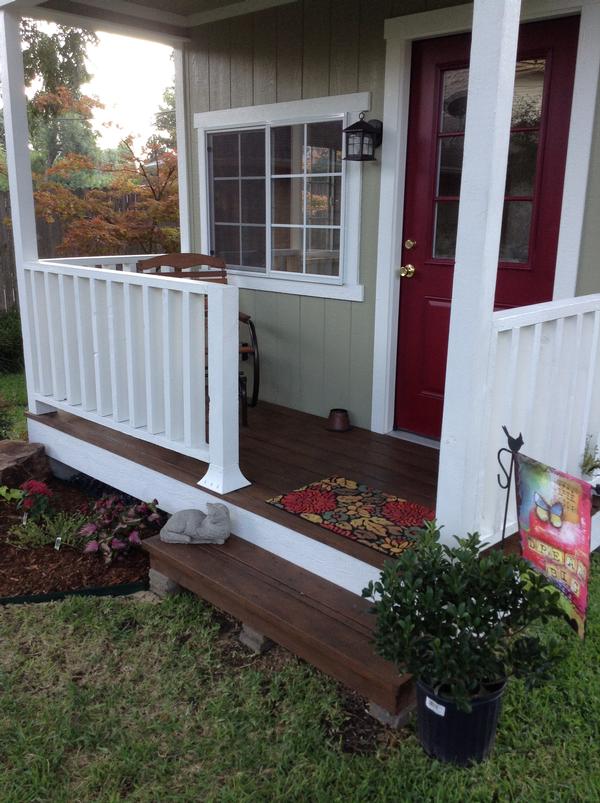 ---
Customer Jeff W. Created a very cool work table with the 4 x 4 post holder. Let us know what you create and we'll post to our site too...


We bought 4 deck posts, had them cut to size at Home Depot, turned them upside down so that there would be detail for the feet, and turned your flanges upside down to fasten the legs to the table. Everything worked out great and the table (8'x2.5') feels
like the Rock of Gibraltar.


Jeff



A Few of the more than 60 Amazon Customer Reviews. 

See more here.

Verified Purchase

Worked well to attractively add support to a pass through post that is solidly anchored below the flooring. I would not trust it to be adequate for any side load if the post were cut flush to the floor. The bottom screws are nicely spaced for solid anchoring but the top screws into the post should be offset more. As it is the two screws on either side of each corner would hit each other about a half to 3/4ths of an inch in. I ended up only use four of the top eight screw holes to avoid this problem.

Jeff --Jackson, MI

Comment  

Verified Purchase

I purchased some of these for the support posts on a deck stairway handrail. The posts and handrail are freestanding with no additional support other than the flange mounted to the deck top and the bottom stair.

After getting everything installed, I was pleasantly surprised at how solid they were. There's no movement on either post.

Comment  

Verified Purchase

I bought 20 of these post flanges for the new deck I'm building. They look great and work good. The only thing about them that I don't like is that only a tapered 4x4 will fit in them. I purchased 16' 4x4s from Lowes and they aren't tapered. Just had to sand the edges on my 4x4s to fit.

Comment  

Verified Purchase

Quick and easy way to install a railing on a preexisting deck. I was worried that because these were plastic they would crack when being installed. They didn't crack and the railing was very stable.

Comment  

Had to sand the bottom 4" of all posts so they will fit. Learned this the hard way, after applying 2 coats of paint. LOL! I will buy these again and have recommend them to my friends.

Verified Purchase

I need to start out by saying that I've never replaced a deck before. After doing some research online, I realized what I should do and what I shouldn't.

My deck is only 12x6, with a small lower level that I will be sanding down and painting soon. I tried to simply follow what the previous homeowners did and replace the lumber piece by piece. This includes the notched 4x4 posts. Huge mistake. After battling with trying to figure out how to notch my own posts, I realized that method is simply not as strong as I'd like. The posts were moving back and forth as well as left and right about 1/4"-1/2".

I found these post flanges and realized this is exactly what I should have done from the get go. I ripped down my railing and notched posts and started over. These are Extremely easy to use. It cut my time down by at least half. The posts are 100 times more secure than they were when I had them notched.

I had a question before I received the flanges. I contacted the seller through Amazon. Within an hour, Billy called my cell phone. He helped me with all of my newbie questions and made me feel at ease with installing these. I wish more companies had customer service like that.

If you are on the fence whether or not should should try these... TRY THEM!! You will love them.