Add-A-Cabana™
With Add-A-Cabana™ you can convert your SUV or VAN into a private changing room, or provide cover while camping, "tailgating" or any number of adventures.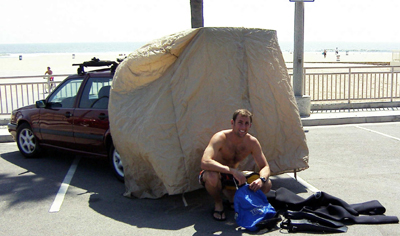 L.A. County Lifeguard/Paramedic Brian Lanich loves his Add A Cabana.
He uses it to change for his duties on the beach.

Add-A-Cabana™ is:
Made of strong & durable nylon
Lightweight - 3 lbs 7 oz.
Compact - 18 ½" by 16"
Closed with Velcro strips on the entry flap
Packaged in a convenient tote bag w/ Velcro closure
Attached with snap buckles to roof rack system
Positioned to the sides of vehicle with magnets. Sides are 6 feet tall when mounted.
Easy to anchor with stakes or weights using loops at the bottom
Able to be held open with Velcro strips
Simple to install in less than a minute
Available in tan or black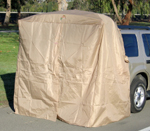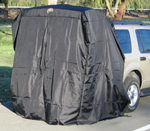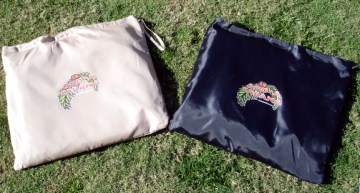 Outdoor enthusiasts of all types will find a convenient way to add some much needed shade or protection from the sun to their routine this summer with the easy to use, portable Add-A-Cabana™
SUV
Tent
. The lightweight woven polyester "cabana" fits snuggly on the back end of SUV's and vans, providing a flexible extension to the vehicle for a wide variety of recreational uses.
The extended shade area is perfect for campers, sports teams, or beach goers that need a place to escape from the sun for a while, a quick place to change, or even a shaded area to prepare meals. "The Add-A-Cabana™
is perfect for these outdoor activities. We see them along the coastal parks and beaches where campers and beach goers have discovered that they need extra protection from the sun, privacy for changing at the beach, or a place to keep food accessible but out of the sun." Sports teams are also finding the ADD-A-CABANA™
is a great, fast way to give team members a break from summer's grueling sun.
The Add-A-Cabana™ SUV
Tent
has been featured on popular television shows on ESPN and HGTV"s "I Want That".
The portable "cabana" attaches to the roof rack of an SUV or van, and extends full length to the ground. The unit has fabric-covered magnets that hold it to the side of the car, and privacy is provided by the Velcro strips that keep the flap closed as needed. The Add-A-Cabana™
is designed to work on any SUV, except those with a single, side-opened tailgate. The product is currently available in tan or black.
Add-A-Cabana™ fits most standard size SUV's and VAN's with a roof rack system. (Excludes vehicles with single swing door)