Ruff Stuf Animal Exercise Harness™ is a weighted harness worn by dogs to strengthen their muscles and add healthy years to your animal's life.

Any dog can benefit from an exercise regimen, and Ruff Stuf is a simple, effective, and important addition to your dogs routine. Easy to use...easy to maintain!

Perfect for exercising...

• Sizes for extra small to extra large dogs
• Rehabilitating animals

"The Ruff Stuf Exercise Harness is a revolutionary product. It is a well made, simple to use device that adds healthy years to your dogs life. There are sixty-five (65) million dogs as pets in the United States, and over half of them are obese, diseased and dying young. In just twenty (20) minutes a day, on your normal walks, the Exercise Harness will promote weight loss, develop lean muscle, increase stamina and help to relax your dog. The Exercise Harness fits snuggly and comfortably, allowing your dog complete movement without any problems.

I recommend the Exercise Harness to anyone who wants a stronger, healthier pet or anyone who has a pet who needs rehabilitation after surgery. I have had the pleasure of using the Ruff Stuf Exercise Harness on my dog and plan to continue using it. In the near future, I plan to introduce it into my rehabilitation center."

---
Medium / Large $89.99





Small $79.99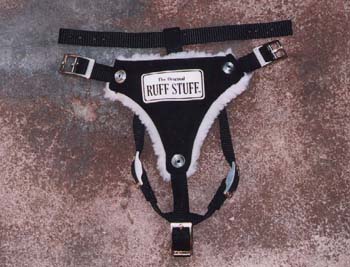 Extra Small $69.99

Small Weight Pack $10.00 (Extra Weight For Small Harness)



Meet Jet Black, a beautiful Giant Schnauser that is the inspiration behind the development of RUFF STUF Exercise Harness.
---
Not long ago, Jet was limping and in quite a bit of pain. After x-rays, Jet was diagnosed with having a hair-line crack in his left hip which occurred after taking a very high jump...and the beginning of hip Dysplasia. I was advised by a veterinarian that Jet would need immediate surgery to repair the hair-line crack, and that Hip Dysplasia would run it's course, doing severe damage in the future. After the third opinion, and viewing the x-rays, I decided to take matters into my own hands. I knew from my own experiences that alternative medicine, healing herbs, massage and body building exercise would heal the hairline crack and strengthen and build the muscles. Good nutrition, plenty of water, vitamins, herbs, and minerals laid the strong foundation for the daily treatment Jet was about to receive. The nutrients kept Jet's bones from getting weaker and allowing the crack to become larger. Now was the time to begin building the muscles a little at a time.
That's how the Exercise Harness was born.
I needed to put weight onto Jet's chest. The chest and neck areas are the strongest and most central spot on the dog's body to hold and carry weight - helping both the front and the back of the body to develop strong healthy muscles without causing any injury to the dog. I designed a pouch that fit comfortably and perfectly between both front legs. I added straps in three places to hold the pouch snugly in place, so that when the weights were added no moving or rubbing would cause skin irritation. I put a 1¼ pound plate into the pouch pocket, zipped it up, and placed it on Jet. The harness was so comfortable, Jet had no problem wearing it, but he did begin to feel the extra weight after about 20 minutes. Jet is a large dog, so 1¼ pounds is not really a lot of extra weight, however, I wanted to begin slowly - I didn't want to irritate the situation any further. As with any new exercise program, I noticed Jet was a little sore and stiff. This was a good sign that the weights were working, so I let him rest every other day, and rubbed him as I petted him every day, making his body feel relaxed. This is something anyone can, and should, do daily. Rubbing helps show love for your animal, and helps the body feel good. Jet graduated from 1¼ pounds to 2½ pounds in about 2 weeks, but I still watched him closely and worked him every other day. He was getting stronger and stronger, and, after 2 weeks, Jet was pulling 5 pounds with ease. He no longer limped or showed signs of weakness or pain in his hip. X-rays showed that the crack in his hip greatly diminished, and he shows no signs of Hip Dysplasis. Jet continues to wear the Exercise Harness, and he alternates between 5 and 10 pounds daily. He is stronger, has more stamina, carries healthy lean developed muscle, and is a happier dog. I have no doubt added many extra healthy years to my companion's life… you can do the same!
Jacqui Everett, developer
Ruff Stuff Animal Exercise Harness
Some frequently asked questions:
Q. What is an animal exercise harness?
   A. An exercise harness that is weighted and worn by the animal to strengthen the muscles and add healthy years to your animal's life. 

Q. Why does an animal need an exercise harness?
   A. More than half of all dogs in the United States are obese - many don't get enough exercise, put on un-needed weight, are sluggish, have an unhealthy diet, and age quickly. 

Q. How does the harness work?
   A. It's worn by the animal about 20 minutes a day, during a normal walk. The weights in the pocket of the harness encourage your pet to to pull harder during the walk, strengthening, burning fat, and adding lean muscle mass, protecting the skeletal system, and making the animal stronger. 

Q. How heavy are the weights?
   A. As with any new exercise program, you should begin slowly. 1¼ lbs. is recommended in the beginning, adding weight slowly as the animal grows stronger, up to 20 lbs. for very large dogs. 

Q. How old should my animal be to begin using the Ruff Stuff Animal Exercise Harness?
   A. It is recommended that dogs be at least 1½ years old. Some natural muscle development and strength should accrue before the exercise harness is introduced as a regular regimen.