StressGard® II NightGuard

The StressGard® II is a unique night guard designed by an orthodontist with a patented flexible groove and new full occlusal contact and natural arch bite tabs.

StressGard® NightGuard was designed by an Orthodontist and requires no boiling or molding to fit. It isready to use right out of the package. Simply place the StressGard® NightGuard between the upper teeth and lip and the bite tabs between your upper and lower teeth. It can also be used on your lower teeth. Simply flip the StressGard® NightGuard over and place between your lower lip and bottom teeth and once again the bite tabs between your upper and lower teeth. The StressGard® NightGuard is simply designed to keep your upper and lower teeth apart. It does not ?fit? tightly around your teeth. Any part of the StressGard® NightGuard can be trimmed with scissors. To adjust the length of the bite tabs simply trim to the length you want.
The StressGard® NightGuard works by providing a cushion between the upper and lower teeth which will prevent you from "locking" your teeth together when you grind/brux, this will prevent the over activation of the facial muscles which causes the pain. The StressGard® NightGuard also provides a smooth protective surface for your teeth to slide on thus preventing damage to the teeth and enamel.
We recommend to start out for a couple of hours the first few days, until you get used to The StressGard®NightGuard. After that it can be worn all night and during the day when you find yourself grinding or clenching.
Feedback from the thousands of user tells us The StressGard® NightGuard is durable. We find 9 months to 1 year to be the norm for heavy grinders and much longer for those who suffer from episodal grinding.
No, The StressGard® NightGuard will stay in at night. The natural tension of your gum muscles will keep the night guard in place. People who tend to spit out their custom made night guards, tell us ours stayed in all night while the custom one ended up on the floor.
With our sleek design and the ability to wear on the upper or lower teeth The StressGard® NightGuard is ideal for daytime use. You can even carry-on normal conversations and no one will realize you are wearing it.
StressGard® has a 30-day money back guarantee policy. If you are unsatisfied with it for any reason return The StressGard® NightGuard to us within 30-days from the original purchase date, and we will refund you the price of the guard(s). Be sure to include a copy of your invoice and your contact information. Mail to the address located on our contacts page.
The StressGard® NightGuard is one size fits all and the entire guard can be trimmed with scissors. We do not recommend children under 10 years old use The StressGard® NightGuard. Grinding in children is very common and when it involves children with their primary teeth, the damage will not be lasting since these teeth will be replaced. We recommend if your are concerned with your child's grinding that you visit your dentist.
There is no average time because people have different problems. Some people grind all the time and need the protection every night. Many people suffer from episodal grinding and only need the StressGard during times of high stress when they tend to grind.
No the Stressgard® is Bisphenol A (BPA) and Phthalates Free!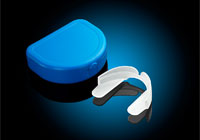 Protects teeth from clenching and grinding
Designed by an orthodontist
No boiling or molding
One size fits all
Ready to use
Convenient and cost-effective
Real Customer Reviews
"I bought your stressgard about 2 months ago and love it! I actually don't mind wearing it at night. I have bought the ones you boil and fit to your teeth, too big and bulky. Thank you so much. This night guard is the best."
Kari Zeller