The Beverage Butler drip catcher eliminates the messy dangerous drips caused by beverage servers and drink coolers which have a spigot. The Beverage Butler has a DURABLE living hinge that folds so it can be stored inside the container! Made of long lasting, strong and stain proof polypropylene.
*coffee can dissolve floor sealant and loosen tiles
*if you have drip puddles you can be held liable for slip and fall accidents
*many beverages can stain counters, carpets and tiles
Versitile enough for any occasion!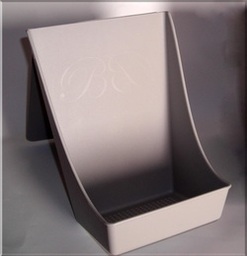 | | |
| --- | --- |
| Church, school events, hotels, offices, event centers, hospitals, banks, catering, restaurants, business meetings and when entertaining at home. | |
We are a new company manufacturing The Beverage Butler in Omaha, Nebraska. Principle product designers, and sisters, Bonnie Young and Jan Fowler have both owned and managed other businesses. This is a first joint venture. We are looking forward to bringing more of our designs to market .
Our new original design is patented and manufactured in the United States.
It's design allows it to fold for easy storage.
The color and clean lines make it attractive for use at the most formal events blurring the line between form and function.
Inspired by the messy puddles made by almost every drink cooler and beverage dispenser, the designers saw a need for a practical, attractive, affordable solution.
We have seen trash cans, cookie sheets, wet towels and plastic drink bottles used to solve this problem. Something hanging on the spigot can cause damage and be easily bumped and spilled.
Other drip trays are bulky and hard to store, expensive, and obtrusive.
The drips can cause stains on counters and carpets.
The puddles may cause injury from falling.