As we age, Collagen and Elastin break down, and skin cells move farther apart, creating facial skin expansion. This causes skin laxity and the accompanying wrinkles, drooping, and sagging. Sublime Instant Lift temporarily reverses these problems by contracting the skin cells on the face and neck. Sublime Instant Lift enters in between the skin cells. The Sublime Instant Lift then attaches itself to the skin cells. As the Sublime Instant Lift dries, it contracts, drawing millions of skin cells with it. The result is skin contraction.
Sublime Instant Lift has no long term benefits. Unlike other products, who offer you only a promise of correction sometime in the future, our authorized resellers guarantee Sublime Instant Lift will work as witnessed in the videos or the product costs nothing. While the FDA does not approve or disapprove of cosmetics, they do the ingredients. Therefore all ingredients should be considered FDA approved ingredients.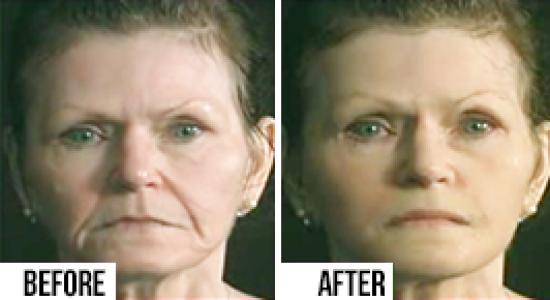 Americans now spend more than $1 billion a year on anti-aging skin products, but most have no idea if there is any scientific basis for claims the products make. In their first-ever investigation to compare wrinkle creams, Consumer Reports investigators tested nine popular products, with price tags up to $335 an ounce.
The investigation found only slight improvements overall in wrinkles for any of the tested products. These so called "breakthrough" anti-wrinkle creams that now dominate department store cosmetics counters don't really work at all, shows the Consumer Reports investigation. And neither do their less pricey drugstore counterparts. Investigators found little relationship between the active ingredients in the products and their overall performance.
Sublime Instant Lift is in a class of its own and sells itself. People have never seen or used a product that works immediately or a video of a product working on someone so quick. Sublime Instant Lift is the only product that demonstrably works every time, and immediately. 10 years from now when all of the other products have been discontinued, Sublime Instant Lift will still be going strong, available in most finer stores, doctor's offices, spas, it will be a household name like Botox is, only bigger.
One quick note about Botox. We have nothing against Botox, Botox actually DOES WORK. The issue is not whether it works or not, but what it does and doesn't do. Botox is very limited, it paralyzes the muscles between the eyebrows so you can't squint, the result is that you can't see wrinkles around the eyes. Remember it doesn't eliminate wrinkles. Sublime Instant Lift on the other hand not only freezes the brows, it eliminates the wrinkles, and lifts them like a brow lift, and does it instantly! This is why Sublime Instant Lift has a much bigger market value than Botox, and will overtake Botox in terms of sales volume in time.
With Sublime Instant Lift the results are INSTANT, demonstrable, and DRAMATIC. We don't have to make any promises of correction sometime in the future, if Sublime Instant Lift didn't work we'd all be out of business in short order as we offer 100% no questions asked money back guarantee. We don't offer a promise of results sometime in the future, but we show results, something that none of our so called competition can do.
Thank you for your time and wishing you much prosperity.