Cake!!!! The top of the food chain for most desserts.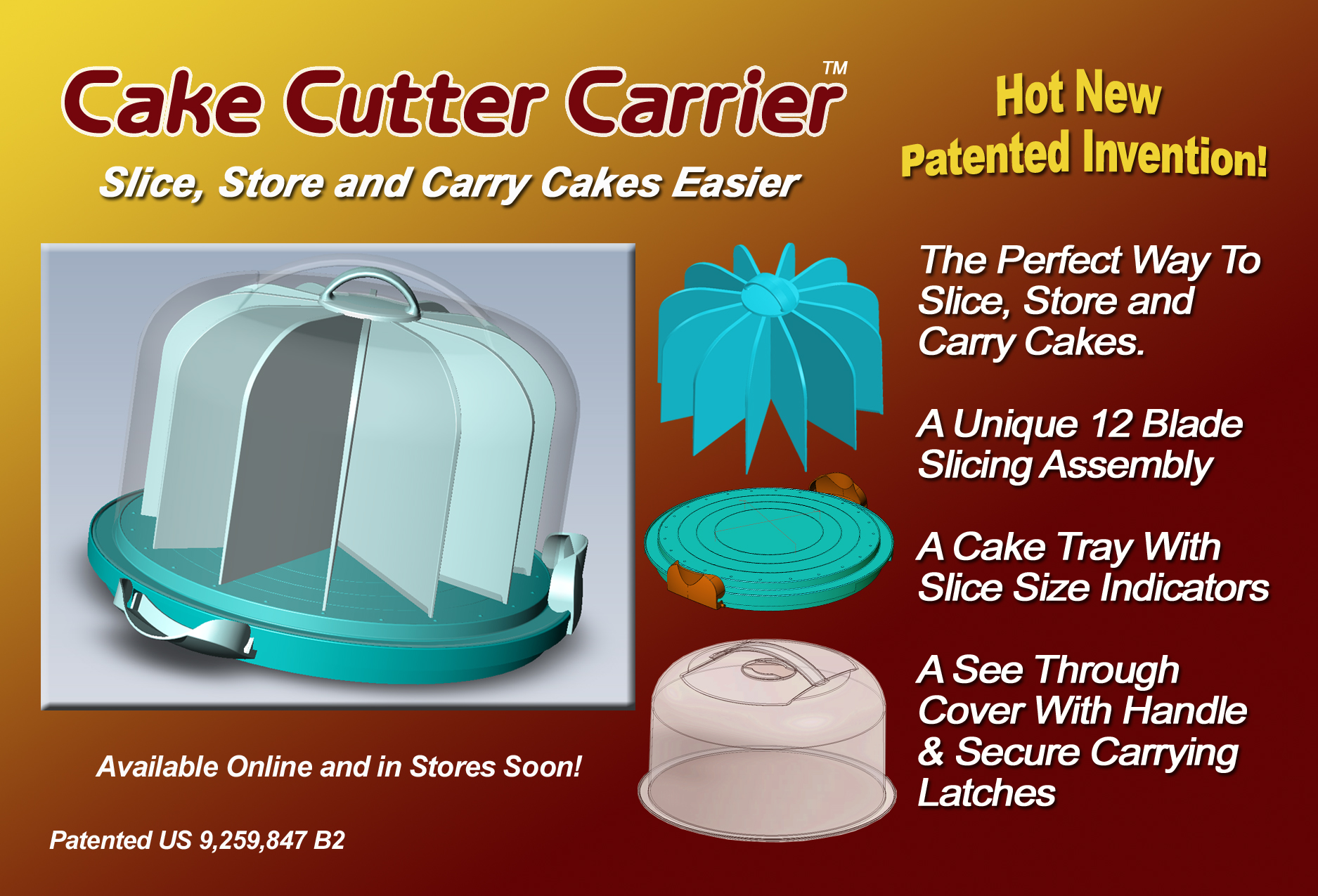 Often as beautiful as they are tasty, cakes are meant to be shared. And no one wants to end up with less than their deserved portion. Plus cakes can last for days if not eaten all at once.
So how do you make every slice of cake equal and what's the best way to store a cake?
Well..... It's a piece of cake with the Cake Cutter Carrier!
The Cake Cutter Carrier was invented by long time New Orleans baker and cook Dave White.
The Cake Cutter Carrier comprises of a special multi blade system that precisely slices each piece of cake uniformly.
It's unique blade assembly cuts 12 perfectly uniform slices. Simply place your cake onto the Cake Cutter Carriers base, align the blade system and press down to slice.
It's a piece of cake.....
The Cake Cutter Carriers unique slicing blades also keeps each slice fresh longer as the blades keep the slices sealed for freshness.
Once your cake is sliced the Cake Cutter Carrier keeps your cake fresh for days with its unique cover and locking system. Freshness and ease of carrying is a piece of cake too!
Simply apply the cover, snap the latches in place and your cake stays fresh and is sliced and ready to serve. The locking cover with its handle on top makes transporting your cake a breeze too.
It's a piece of cake to keep your slices even, fresh and tasty longer while providing terrific storage and transport.
Be one of the first to get your Cake Cutter Carrier today!
The Cake Cutter Carrier provides a convenient, safe, easy way to cut, store and carry cakes and pies while keeping them fresh.
Unlike traditional cake covers, the Cake Cutter Carrier's see through cover includes a removable blade assembly that cuts 12 even slices.
The blades also act as a divider that helps keep evenly cut slices divided fresher for longer periods of time.
In addition the Cake Cutter Carrier is designed for easily and securely transporting cakes and pies.
It's three secure latches ensure the cover and base stay firmly attached so as to provide maximum freshness transportability.
To use the Cake Cutter Carrier simply remove the cover and place your cake onto the base at the 6, 8 or 10 inch marks, then align the blade assembly and press down to cut 12 slices.
You can also cut up to 12 additional slices with your own knife.
The Cake Cutter Carrier also make carrying or transporting a cake or pie very easy and secure.
It's sturdy cover handle provides comfortable carrying and its special large cover latches make securely attaching the top to the base very easy as well.
The Cake Cutter Carrier and its special blade assembly are also dishwasher safe. It also includes a cleaning brush.
The Cake Cutter Carrier will last your family or restaurant for many years.
It especially ensures each person will get an evenly cut, fresh piece of cake or pie.
Do you have a hard time cutting even slices of your cakes? Just using a knife, it can be hard to judge how even you are cutting your cakes until you are ready to store it. With the Cake Cutter Carrier you get beautifully even slices every time. The product consists of three components. The top is a cover that has a detachable slicing blade assembly. The bottom is the tray the cake sits on and has slice indicator marks. In the middle is the blade assembly. To slice an entire cake simply place the cake on the tray, position the blade assembly and press down. Once the slices are cut leave the blade assembly in place and serve slices one at a time. The blades act as slicers and preservers so as to keep slices fresher longer.