Wizard Distribution is constantly seeking new products for DTC "Direct To Consumer" distribution.
Submit your product today!
Please send ample product samples to:
Wizard Industries
203 N. Saginaw
Holly, Michigan 48442
248-382-5642
To be well prepared for the information our system requests
please watch the video below prior to setting up your products.
We purchase and stock products for distribution to our retailers and consumers.
Add your products to our offerings today! It's Easy!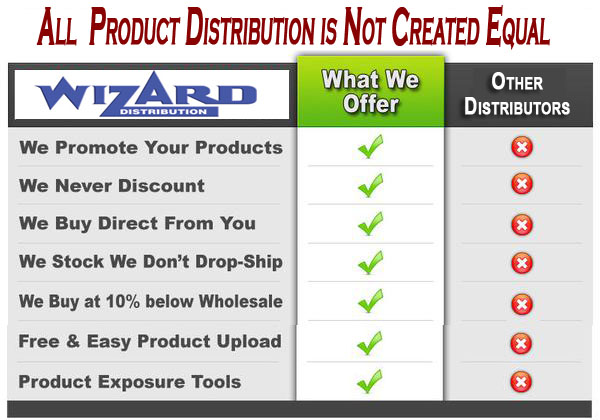 WizardDistribution.com, SmallBrandNation.com, ProductNewsChannel.com and
SampleRewards.com are our brand participation-driven, retailer alert destinations
for new and small brands.
---
Distribution Overview
Wizard Distribution allows manufacturers, exclusive product distributors and national / international brands (collectively referred to as Manufacturer/Suppliers) to sell, distribute and market directly to consumers (DTC), retailers and vendors without the constraints imposed by traditional representation and distribution methods. Wizard Distribution aggregates manufacturers, brick and mortar, click and mortar and pure e-tailers (collectively referred to as Retailers) providing Manufacturer/Suppliers with new customers and new markets to sell products. Wizard Distribution gives Manufacturer/Suppliers control over product selection, margins and markets.

Becoming a Wizard Distribution participating Manufacturer/Supplier is simple and cost nothing. Once your registration is submitted, you will be given access to a secure portion of the network (the Product Manager) where you will be asked to upload the following product information:

1. Product SKUs or model numbers (hereinafter also referred to as "Listed Products")
2. Product descriptions
3. Product Prices, which must include the wholesale cost.
4. Suggested MSRP (Manufacturer Suggested Retail Price)
5. Package dimensions (including total weight)
6. Product Options
7. Pre-sale information (including product specifications)
8. Standard Product Warranty
9. Product return policy and procedures (after 30 days)
10. Product photos in the prescribed format and size: 72DPI .JPG or .GIF up to 1000 pixels wide for full size images (our system will resize images for you).
Products that contain or promote some or all of the following are considered objectionable by Wizard Distribution and will not be permitted to join the network:
Products that are pornographic or sexually explicit;
Products that promote discrimination based upon gender, race, religion, nationality, disability or age;
Products that promote hate, violence or illegal activities
Products that violate any municipal, state, federal, foreign or other applicable law or regulation; and
Products that infringe upon the copyrights, trademarks, trade secrets, patents, rights of publicity, or any other proprietary right of Wizard Distribution or any third party.
Requested Sample Inventory:
Manufacturer is requested to provide an amount of samples based on the level of distribution chosen when registering. Samples are required in order to participate in the WizardDistribution.com program and to utilize the WizardDistribution.com DTC system. Samples are devoted to initial sales and retailer and media sample request. Shipping cost of samples to retailers and the media is paid for by Wizard Industries with services provided by Wizard Distribution at no cost to the brand owner / manufacturer. Samples are assigned to Wizard Distribution and become the property of Wizard Distribution and cannot be returned to manufacturer. Upon sale of our first 6 units a Wizard Industrieas PO is placed for stocking inventory of at least $150.00 (in wholesale value) worth of inventory to cover our initial consumer orders. P.O.'s for larger orders are also provided based on our wholesale sales to retailers. Our typical policy is to stock at least twice of what our average demands are. In some instances we may stock several thousand units of inventory. Our stock quantities are predicated on our sales and demand from retailers.

Why we request samples:
Samples are requested so as to provide retailers and the media with free evaluation samples. Since few retailers will stock a product without first seeing a sample we make samples available to any requesting retailer (upon verification of their retailer status). In addition we provide samples to the media in order to increase exposure of the items. We pay all shipping cost to get samples delivered to retailers and the media. This is often a huge cost and time savings for the manufacturer and we treat it as a partnership effort since our typical cost to process and ship samples to retailers exceeds $20.00 per sample (we pay this expense for you). Often this is a much higher cost than the manufacturer pays for the sample itself. This method has been very successful for our own line of products. Our technology provides a further cost savings for the manufacturer thus increasing success from both cost and sales standpoints.

Why this is a value to manufacturers.
Based on the manufacturing cost of a product (if the typical 5 times manufacturer cost equal MSRP multiplier is used) the samples should cost the manufacturer less than about $75.00 to supply. This means that our efforts, technology, exposure, advertising and the average $30 shipping and processing cost we spend for sending your samples to retailers is a valuable cost savings to you.

In a nut shell
We provide a great value and service along with producing sales of your item to our retailers and direct to consumers. Being inventors and manufacturers ourselves with over 60 products that are sold to thousands of retailers we understand the obstacles and costs in penetrating new retailers. We developed this system in 1999 in order to help gain distribution for our own brand (Wizard Industries). The methodology and technology worked so well that we had countless other manufacturers asking to have their products added to our Wizard Distribution system.

Today we help hundreds of manufacturers by allowing them to place their products in our system so we can distribute their items to retailers and consumers. Our investment in paying the processing and shipping cost to get your products to our current and new retailers is often a much greater expense than the manufacturer's expense of supplying samples. This should be looked at as a valuable opportunity as it allows us to help in getting a manufactures product penetrated into retailers. There are no other distributors that go to these lengths in helping small line manufacturers. Actually it's tough to find distributors that go to these extremes for even the big manufacturers!

Why do we do all of this?
In short.... It works! We make a fair and honest effort and provide a unique and powerful system (that we spent hundreds of thousands of dollars and years perfecting) in order to distribute more products that make profits for the manufacturers and us.

Product Pricing Structures:
Product Pricing To Consumers
Wizard Distribution will also act as a retailer of your products for consumers. We will list your items at retail and pay you at manufacturer list prices (wholesale price). These prices include the Manufacturer/Supplier's cost, mark-up, packing, ground shipping and handling to the customer collectively referred as the "product price." Wizard Distribution adds a 50% retail selling price margin based on the manufacturers suggested wholesale price. For example: Assuming that the wholesale price of a product is $50, the Manufacturer Suggested Retail Price is $100; For a product that sells retail for $100 the Supplier gets $50, and Wizard Distribution makes a retail margin of $50. Upon completion of each sale to a consumer Wizard Distribution provides a copy of the order.


Product Pricing To Retailers
Wizard Distribution will also act as a wholesale distributor of your products for retailers and dealers. We will offer your items to retailers at wholesale prices and pay you at manufacturer wholesale distributor prices (typically 10% below wholesale price). These prices include the Manufacturer/Supplier 's cost, mark-up, packing, ground shipping and handling to our warehouses collectively referred as the "wholesale distributor price." Wizard Distribution adds a 10% wholesale selling price margin based on the manufacturers suggested wholesale price. For example: Assuming that the wholesale price of a product is $50, the Manufacturer Suggested Retail Price is $100; For a product that wholesales for $50 the manufacturer gets $45, and Wizard Distribution makes a distributor margin of $5.00. Upon completion of each sale to a consumer Wizard Distribution provides a copy of the order.
When We Begin Placing Stocking Orders fro Inventory
After consumer or retailer orders are received on the Wizard Distribution system orders ship the very same day. We stock the items in our warehouse and fulfill the orders from our stock inventory. Our stock inventory begins with the sample inventory that you sent to us when you loaded the item into WizardDistribution.com. As soon as we receive the 1st order (filled from some of the samples your supplied) we place a stock order for typically 48 units (or a few hundred dollars) of inventory. This is considered the first stock order and from that point on we continue to order and stock inventory as long as the item continues to sell. Occasionally we may ask you to drop ship and order on emergency basis. However we generally do not like to ask you to drop ship. Drop shipping is a strain on everyone and we avoid it unless it is an emergency. You are welcome to charge us drop ship fees if you like.
How The Supplier Gets Paid
The manufacture invoices Wizard Industries, Inc. for the wholesale distributor cost (typically 10% below wholesale) of each item along with the shipping cost of each item. Wizard Industries, Inc agrees to pay each invoice within the terms set forth by the manufacturer.
---