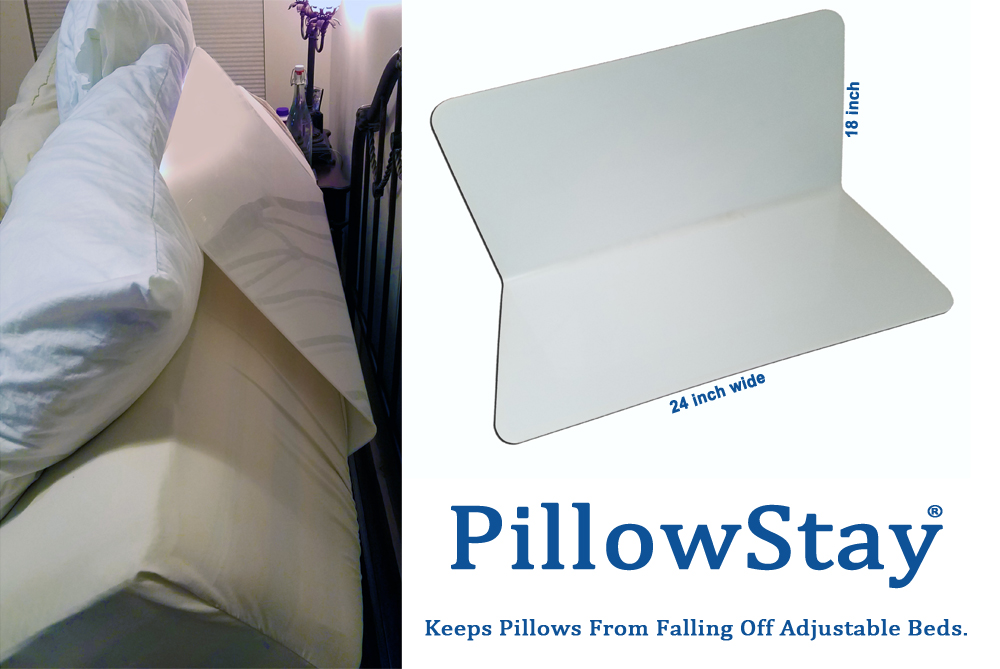 PillowStay® prevents pillows from falling when adjustable beds are raised. Commonly on all adjustable beds, pillows fall between the mattress and the wall or headboard as the bed is raised. PillowStay keeps pillows on the bed. PillowStay is very simple to use. Simply slide the bottom of PillowStay under the mattress at the head of the bed.

The PillowStay is made of 1/8" x 24" x 36" polystyrene sheet bent in half. It is very easy to install, it is very solid, durable, lightweight and easy to clean. PillowStay comes as the standard 24" wide and 18" from bottom of mattress. A typical mattress is 12" tall so there will be a 6" tall area above the top of the mattress so as to hold pillows while the mattress head is being raised.

One PillowStay is ideal for a twin or double size bed. Two PillowStays are ideal for a queen, king or California king size bed Patent Pending 10-18-21 Wizard Industries PillowStay
Pillow Stay prevents pillows from falling when adjustable beds are raised. (NOT FOR MURPHY BEDS)
One Pillow Stay is ideal for a twin, double or queen size bed
Simply slide the bottom of Pillow Stay under the mattress at the head of the bed
Bed can then be raised and lowered while Pillow Stay keeps pillows in place


One PillowStay is ideal for a twin or double size bed.
Two PillowStays are ideal for a queen, king or California king size bed

Patent Pending Wizard Industries PillowStay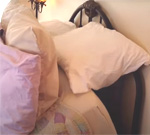 Pillows fall off head of adjustable beds
PillowStay holds pillows in place while bed is raised

PillowStay Solves The Problem of Falling Pillows
Prevents Pillows From Falling Through Crack When Bed is Raised

PillowStay is easily installed and lasts forever
The PillowStay is made from a very durable, clean, tuff yet elegant styrene plastic and is very simple to install. Simply raise the head of the adjustable bed and slide one side of PillowStay under the mattress.

PillowStay creates a small headboard so pillows stay in place
Once installed PillowStay becomes a small headboard that rises and lowers with the mattress as it is raised and lowered. Pillows are kept from falling through the PillowStay and your actual headboard. Simple, clean, effective and sweet as pie once you are all set up with your own PillowStay.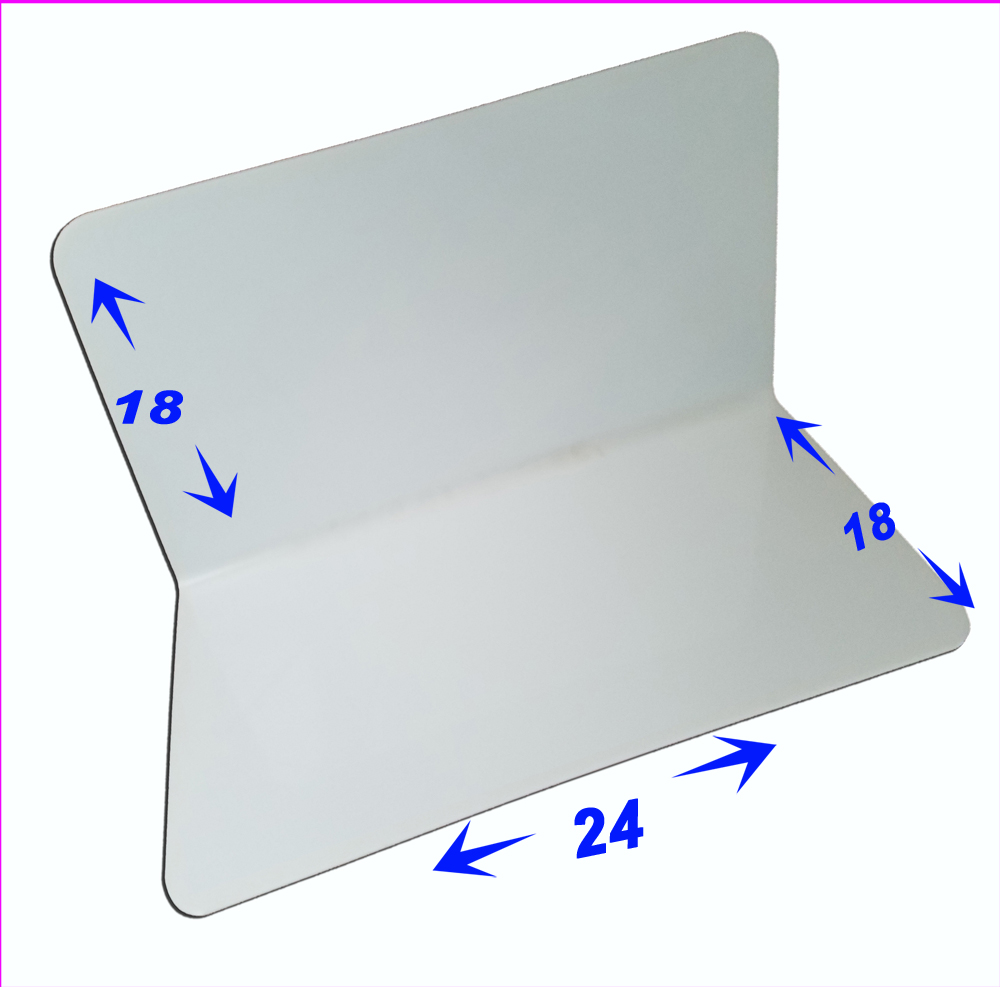 Stop losing pillows on your bed with the PillowStay®. Made to block the space between your mattress and the headboard or wall. PillowStay keeps pillows on your regular or adjustable bed.

Stop pillows from falling off your bed with the PillowStay®.
Made to prevent pillows from falling through the space between your mattress and the headboard or wall.

Patent Pending Wizard Industries PillowStay®