Security Picture Hangers

Choose From Packets:
Heavy Duty Set of Two Picture Lok's
(For large size framed items up to 60" wide using two Heavy Duty Picture Lok's or up to 30" wide using a single Heavy Duty Picture Lok's )
---
Out of sight when fitted.
• Reduces unwanted movement.
• Easy to fit using pins supplied.
• Suitable for hard wall surfaces.
• Made from reinforced heat resistant plastic (safe for use above radiators).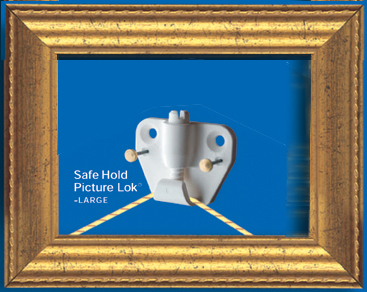 Picture Lok has been designed as the safe and simplest way of hanging your pictures and mirrors to protect against accident and theft. In order to ensure maximum benefit from your
Picture Lok® please follow the following fitting instructions carefully.

1. Fix Picture Lok to wall with a hammer using the hardened steel pins provided (use of protective goggles is advised).

For heavy pictures or extremely hard surfaces we suggest using appropriate 4mm screws instead of pins (separate holes are provided for screws) screws not included. Insure that wall is of sufficient strength and condition to hold hook and picture.

2. Hang picture cord onto the hook in the normal manner and straighten.

3. From above and behind the picture frame, screw down the locking screw until the cord is trapped in position thus reducing unwanted movement and theft (do not overtighten).

4. We suggest one Picture Lok for every 0.6m (24") width of frame e.g. for large paintings 1.2m (48")+ use 2 Picture Loks, one on the left and one on the right. (max load 8kg)