Stor-A-Hitch™ was designed to offer convenient, secure and versatile storage for a trailer hitch ball mount when not in use. This product will provide a reliable, permanent and economical storage location for the hitch ball mount in a vehicle or at home.
Stor-A-Hitch™ can be utilized in the home or garage by mounting it to a wall, work bench, shelf unit, etc. to eliminate the hitch ball mount from being lost, misplaced or in the way.
Mounting Stor-A-Hitch™ in the bed of a pickup or the rear compartment of an SUV will prevent the hitch ball mount from lying unsecured in the vehicle. As anyone who tows is aware, the hitch ball mount and pin create an irritating rattle when lying loose.
Stor-A-Hitch™ is a lightweight, inexpensive solution for the storage of the hitch ball mount.
Highlights
Multiple pin locations to hold most Class 3, 4 & 5* hitch ball mounts with varying shank lengths
Quick and easy to mount-uses only two #10 mounting screws
Lightweight design
Made from durable, high strength plastic
Convenient size- 6" x 3¼" x 2¼"
Very versatile-mounts almost anywhere; to a wall, workbench, in a vehicle or in a trailer
Works with hitch pins and or hitch locks for added security
Mounting holes designed to align with standard pegboard holes.
No more lost hitch ball mounts
30 day limited warranty
Stor-A-Hitch™ for Class 1 & 2 hitches coming soon
Wall/Vehicle Mounting Instructions
Locate mounting location
Determine orientation (Vertical or Horizontal**)
Hold unit in desired position and mark screw hole locations
Pre-drill the two pilot holes with a 1/8" drill bit
Line up unit over holes and hold in place
Thread provided fasteners into place and tighten with screwdriver
Repeat step #6 for second fastener



Tips:

** If mounting in a residential / commercial building ,locate a stud for maximum strength and mount vertically.

** If used for in-vehicle application, insert receiver with ball attached to assure proper clearance.

** For horizontal orientation - ball and/or screw should sit on floor

** For vertical orientation - male end of receiver should sit on floor

** We always suggest to mount Stor-A-Hitch in a stable, rigid location. It is not advised or recommended to mount Stor-A-Hitch to an interior molded plastic trim part on your vehicle. If Stor-A-Hitch is mounted to a molded plastic interior trim part, then additional reinforcement may be needed to prevent that part from being damaged or cracked during installation or u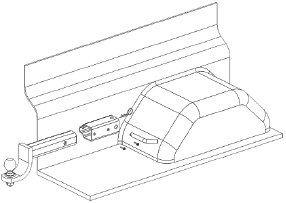 Inventor

Current Assignee

JRM International Products Inc

Original Assignee

Priority date
---
Family: US (1)
DateApp/Pub NumberStatus
2010-06-17US12802891 Active
2012-07-31US8231035B1 Grant