Instantly Locates Weapons, Paraphenalia and Dangerous Metal Objects
The Wizard Mail and Package Scanner III is a unique advanced and powerful security detector. It's powerful coils and state of the art electronics allow the unit to be used in high security applications where precise detection is critical. The Mail and Package Scanner III powerful long range coil and unique design allows the unit to be used in any office, mail processing environment.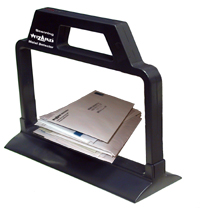 The powerful Mail and Package Scanner III deep scanning loop allows for deep penetration of envelopes, boxes, bags, containers and and other paper, cardboard, plastic, wood and other materials where dangerous or suspicious weapons or metals can be concealed.
Dimensions: Length 22"., Width 20"., Height 2-7/8". Weight: 6 LBS oz. Center hole diamer 13"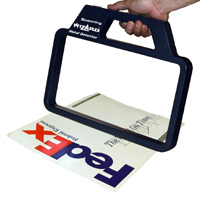 Types of Metal Detected: Responds equally well to all types of metal, steel, stainless steel, zinc, magnesium, and aluminum.
Electronics: Unit operates with an automatic tuning transmit/receive circuit. Provides precision detection pattern which helps prevent false alarms from rebar in floors and other surrounding metal.
Operating Frequency: 13 kHz / 6,600 Hz.
Power Requirements: 120 Volt DC
Alarm Indicators: Piezo tone beeper and LED RED light indicator are used to indicate the presence of metal. Digital counter tracks all metallic entries